Please contact ROKKO at
Attention Mr.:EGAWA/
Overseas Sales Dept.

TEL: 81-798-65-4508
FAX: 81-798-67-5038






Job Opportunities
Please click below













































































ROKKO ELECTRONICS Co., Ltd.

Zipp: 663-8105
8-5, Nakajima-cho, Nishinomiya-city, Hyogo, Japan



















New factory opened exclusive
for new material wafer processing

2017/01〜

〜New materials:SiC,Sapphie,LT,etc〜


●Increased processing capacity to cope with mass-production.

●Separated from silicon wafer processing, wafer incoming〜
  delivery to be one-pass process.

●Cost advantage by the process reduction.

●Mass production started in March, 2017.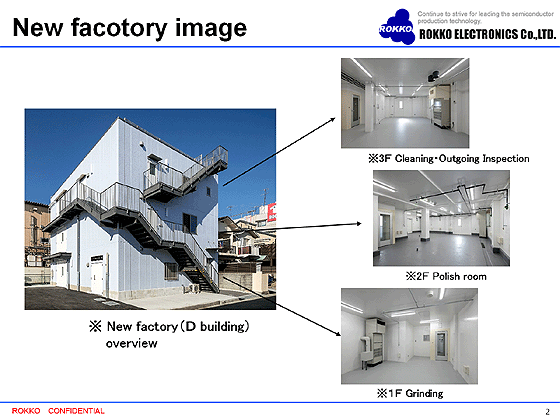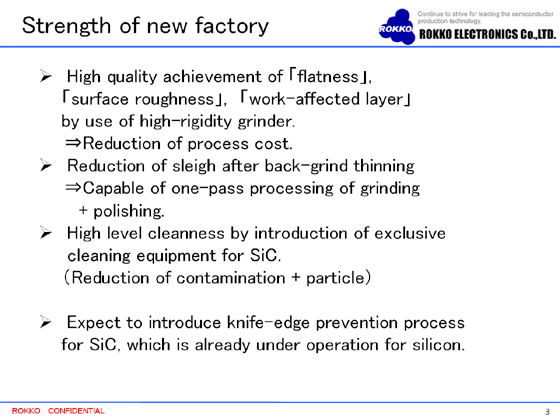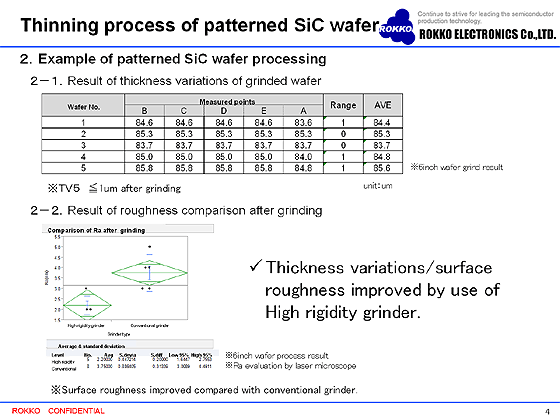 ■ Sapphire processing services



Rokko provides an integrated sapphire wafer processing service (Grinding → Polishing → RCA cleaning) through the well-developed technologies.
Rokko has developed techniques to utilize its existing semiconductor tools and equipment for sapphire wafer operations. In comparison of the conventional equipment available in the sapphire industry, Rokko's process has its advantages in throughput, wafer warpage, roughness, and flexibility of wafer size.







Measurable elements: 12 elements (S, Cl, K, Ca, Ti, Cr,Mn,Fe,Co,Ni,Cu,Zn)



Wafer Size: 3, 4, 5, and 6 Inch
Measurable thickness: 300-1400um




■ New Equipment:
After polishing, residues contain alkaline substances results in becoming polishing marks or sources of particle. Removing such residues before coated by native oxide films is one of the key techniques in polishing.
In our conventional process, wafers are cleaned piece by piece through operator's manual scrubbing. Now, Rokko introduced the automated cleaning equipment to eliminate human errors and deviation of quality to achieve the uniform stable quality.

■Wafer Size:4・5・6・8 inch
■Thicknesss: 〜 100μm
■Patterned・ M EMS and SOIWafer
Glass supported wafers also can be processed.





High cleaning performance.




Wafer Size:4・5・6・8 inch
Sapphire and SiC wafers can be processed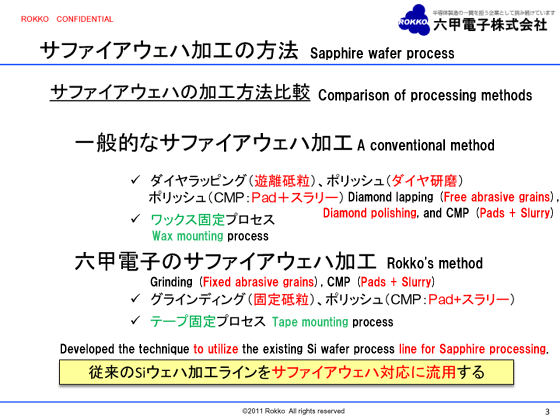 Sapphire wafer process

Comparison of Sapphire wafer process
 
Conventional process
Rokko's process
 
Diamond lapping
Polishing, CMP
Grinding
Polishing, CMP
Running cost
High
(Metal wheels + Diamonds)
Moderate
(Pads + Slurry)
Moderate
(Diamond wheels)
Moderate
(Pads + slurry)
Required level of process technology
High
Moderate
High
High
Cost of equipment
High
Moderate
High
High
Throughput
Very low
(0.2-20um/min)
Low
(1-2/2-3hr)
Moderate
(6-120um/min)
Moderate
(1-2um/0.5-2hr)
Remarks
Wax mounting
Difficulties in lapping table adjustment
Higher number of process is required.
Wax mounting
Difficulties in lapping table adjustment
Vacuum chucking system
Utilization of Si process equipment
Fully automated machines
Vacuum chucking system
Utilization of Si process equipment
Single wafer polishing machine
(Self-developed)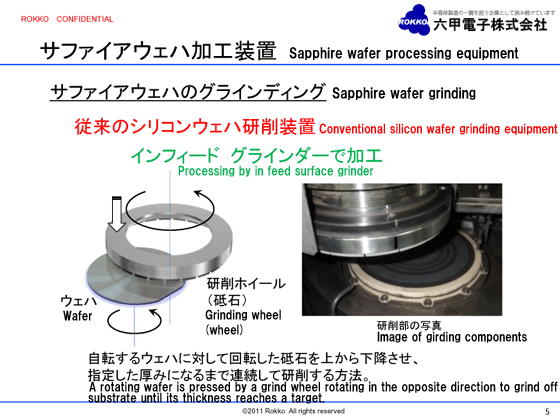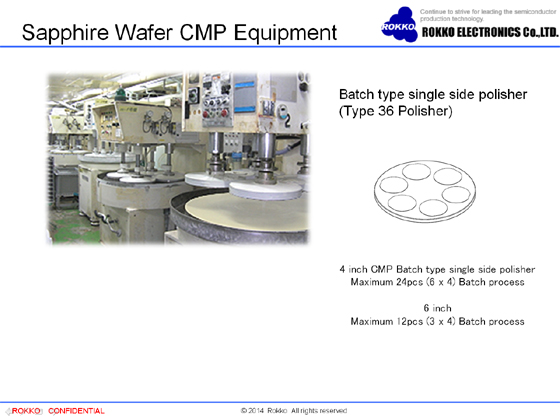 Sapphire wafer grinding process

Sapphire wafer grinding ・ polishing process
3, 4 inch - C surface
Process
Process speed
(um/min)
Roughness
Ra (um)
Removals
(um)
Rough grinding
120
0.478
〜500um
Send grinding
90
Under evaluation
〜350um
Final grinding (1)
80
0.380
〜50um
Final grinding (2)
Under evaluation
Under evaluation
〜50um
Final grinding (3)
Under evaluation
Under evaluation
〜40um
Final grinding (4)
30
0.026
〜30um
Final grinding (5)
Under evaluation
Under evaluation
〜5um
CMP
Under evaluation
Under evaluation for under 1nm
〜3um
Proposing high efficiency (High throughput with low abrasion) process

Sapphire wafer process

Rokko's grinding ・ polishing process
Grinding machine
Utilized the conventional Si wafer processing equipment
→ High efficiency (high throughput / low abrasion) process
Wafer size compatibility
Large diameter can be processed (single wafer process)
→ Si wafer grinding machine (Up to 8 inch diameter)
Wafer mounting
(Device protection)
Wafer surface protection tape method (Same as Si wafer process)
→ Wax less process (Save wax reduction process and cost)
Grinding Slurry
Application of fixed abrasive grinding slurry instead of loose abrasive→Eliminating slurry wastes
Surface roughness
High speed precise process by grinding wheel
→ Roughness level meets CMP pretreatment process
Wafer Sori
Able to process without stressing wafers until dicing frame mounting
Polishing (CMP)
High quality process with free abrasive grains (Colloidal Silica)
Capable of servicing from grinding to CMP from a single wafer production