Please contact ROKKO at
Attention Mr.:EGAWA/
Overseas Sales Dept.

TEL: 81-798-65-4508
FAX: 81-798-67-5038






Job Opportunities
Please click below













































































ROKKO ELECTRONICS Co., Ltd.

Zipp: 663-8105
8-5, Nakajima-cho, Nishinomiya-city, Hyogo, Japan


















■  Specialized Grinder for Sapphire and SiC


Current trends in the sapphier and SiC wafer industries, the dimeter of wafer becomes larger and larger. Because of this trends, Rokko sees the limitations of the conventional process equipment. Therefore, Rokko has introduced fixed-abrasive-grain type equipment to their sapphire and SiC grinding services.This newly introduced service is now available for customer evaluations.




●Rokko is capable of providing process services at the same control level of the semiconductor industry that is cultivated through long term relationships with our customers. (DIW, clean room control, work standards for equipment control/operator education/operator certification)
●A wax-less process is established for not only prime wafers but also for wafers with devices. Because cleanness is very critical in the wafer thinning business.
●The integrated process services are available. Thinning work → Mirroring・Stress relief (Polishing) → Processed surface cleaning (contamination・particle removals) (RCA cleaning) and Beveling
●In caparison with the conventional process methods, Rokko's services is proved to be better in process time and costs.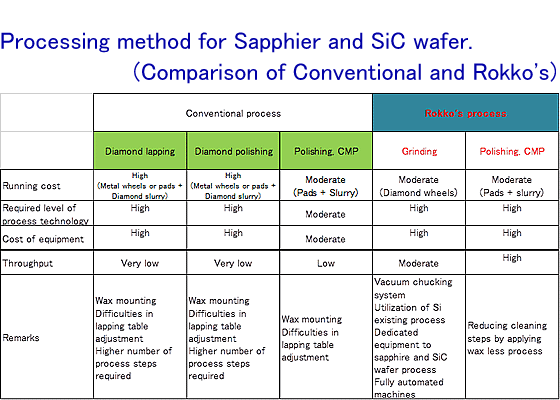 ■ New equipment:
| | | |
| --- | --- | --- |
| For 3,4,5,6 inch. | | Film stripping for SiC wafer reclaim. |

| | | |
| --- | --- | --- |
| Specialized Grinder for Sapphire and SiC |   | Specialized Grinder for Sapphire and SiC |
| This equipment is made for 6 inch hard-substrate wafers such as sapphire and SiC. | | Automated process via NC control system |

| | | |
| --- | --- | --- |
| Specialized Grinder for Sapphire and SiC |   | Specialized Grinder for Sapphire and SiC |
| This machine is equipped with an automated wafer conveyance system to perform fully automated wafer processing. | | Equipped with a vacuum checking system (Wax-less) |

| | | |
| --- | --- | --- |
| 6 inch Sapphire wafer |   | 6 inch Sapphire wafer |
| Both patterned and prime wafers can be processed. | | SiC wafers are processed by the special grinding wheel. |

| | | |
| --- | --- | --- |
| 6 inch SiC wafe |   | 6 inch SiC wafe |
| Both patterned and prime wafers can be processed. | | SiC wafers are processed by the special grinding wheel. |